When can you fish for trout in Massachusetts? When can you chase landlocked salmon in Maine? Striped bass in Rhode Island? Ice fishing? Here's what you need to know: it's different in every state. Confused yet? Don't worry — you will be soon.
Keeping track of when you can fish for what and by which method across New England is incredibly difficult. Every state has a different rule, and a different timeline, for different fish. What's more, state websites vary significantly in how much information they make readily available. It's confusing, to say the least.
What I've attempted to do with the below is provide a compilation of all of the various dates, websites and resources to give you a complete guide to fishing dates in New England in 2013.
Connecticut (CT)
CT Fishing Licence Information
General information available here: CT Department of Energy & Environmental Protection
When is Opening Day in Connecticut?
The traditional Opening Day of the trout season is always the third Saturday in April beginning at 6 a.m..
Maine (ME)
Freshwater fishing in Maine:
April 1- August 15th — all fishing, brooks and rivers
August 16 – Sept 30th — artificial lures ro flies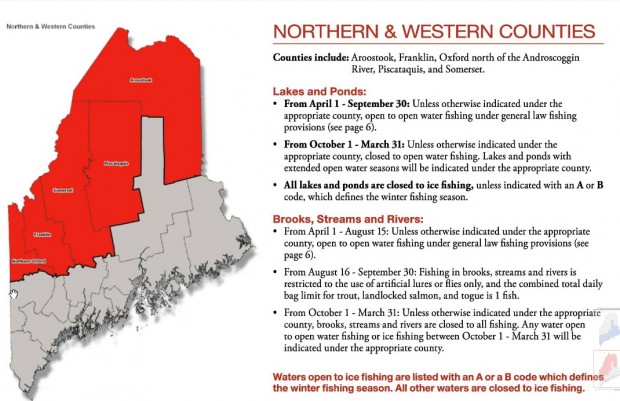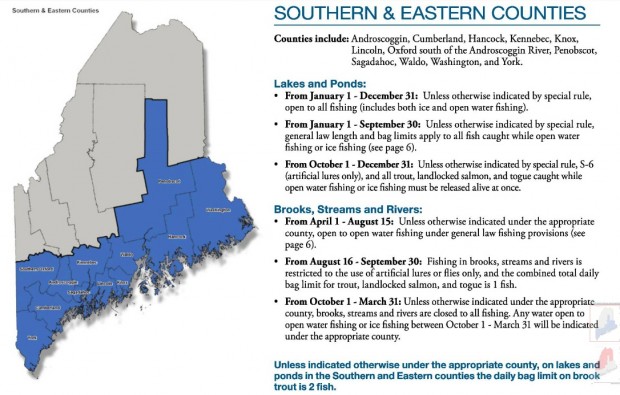 For more information, visit:
New Hampshire (NH)
NH Fishing Licence Information
NH Saltwater Fishing Information
New Hampshire Fishing Seasons:
Brook Trout, Rainbow Trout, Brown Trout & their Hybrids
Rivers & Streams: January 1 – October 15
Wild Trout Streams: January 1 – Labor Day
Trout Ponds: 4th Saturday in April – October 15
Wild Trout Ponds: 4th Saturday in April – Labor Day
Lake Trout &/or Salmon Waters: January 1 – September 30
All Other Waters: No closed season
Lake Trout
All Waters: January 1 – September 30
Landlocked Salmon
4th Saturday in April – September 30 (Pleasant Lake, New London)
All Other Waters: April 1 – September 30
Atlantic Salmon Brood Stock Fishery (along the Merrimack and lower Pemigewasset rivers)
Catch & Release October 1 – March 31
1 Fish/Day, 5 Fish/Season April 1 – September 30
Vermont (VT)
Vermont Fishing Licence Information
Vermont Department of Fish and Wildlife Calendar
Apr 13 2013- Jun 7 2013Bass Catch & Release Season
Apr 13 2013- Oct 31 2013Trout and Landlocked Salmon Season(No Closed Season on Lake Champlain)
May 4 2013- Mar 15 2014Walleye SeasonFor all other waters except the Connecticut River and Chittendon ReservoirMore Details
Jun 8 2013- Nov 30 2013Largemouth & Smallmouth Bass Season
Massachusetts (MA) 
MA Fishing Licence Information
Saltwater Fishing Regulations: Permits, Licence, Dates
Freshwater Quick Reference Guide
TROUT
Lakes, ponds, major rivers Jan. 1 – Dec. 31 3 —
Housatonic River Jan. 1 – Dec. 31
All other rivers and brooks Apr. 1 – Sept. 10 & Sept. 11 – Mar. 31, 2013
LAKE TROUT
Wachusett & Quabbin Reservoir: See Note 6 Here
SALMON (landlocked) Jan. 1 – Dec. 31
SALMON (broodstock) 7 Jan. 1 – Dec. 31
AMERICAN SHAD Jan. 1 – Dec. 31
CHAIN PICKEREL Jan. 1 – Dec. 31
BLACK BASS (Largemouth and Smallmouth, singly or combined): Jan. 1 – Dec. 31
NORTHERN PIKE Jan. 1 – Dec. 31
TIGER MUSKIE (Muskellunge) Jan. 1 – Dec. 31
WALLEYE Jan. 1 – Dec. 31
SMELT: Jan. 1 – Feb. 28 & May 16 – Dec. 31
ALL OTHER FRESHWATER SPECIES Jan. 1 – Dec. 31