How do you bow to a king you've never met? To a legend, a stranger, and a monster? I learned the answer early in the afternoon. It was Friday, May 2nd.
We had been chasing tarpon — a giant fish constructed of silver dollar scales, dark eyes the size of plums, and a mouth that could swallow a basketball — in the warm, blue waters off Boca Grande. The pass at Boca is renowned tarpon water, and the coast nearly so: it's here that Americans, who can't be bothered (or afford) to fly south to South America or elsewhere, go to chase tarpon. All morning we had been doing just that: driving with our guide up and down the coast in his 18′ center console boat searching for schools of tarpon. We blazed past islands and boats and fishy looking sections, stopping here and there, with not a single fish in sight.
And so, just before mid-day, we threw the anchor and settled into a spot 100-200 yards offshore. All four of us took to trying to spot passing fish. We saw nothing but for our unshaven, pale faces, and the considerably darker, sun-weathered face of our guide, Anton — a South African known, for the medical mask he wore to protect his face from the sun, as "Dr. 'Poon" (for tar-pon). In the absence of fish, it was to this humor that we turned. Then the fish started rolling by.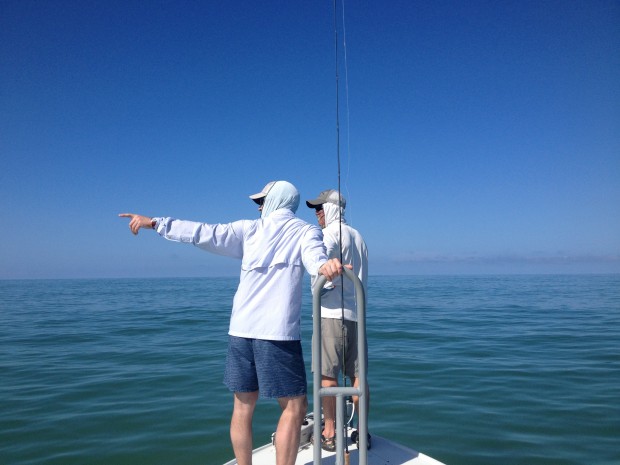 My dad spotted the first. And then they started rolling by in small schools: sometimes 3, sometimes 9 or more. As if filing into the schoolyard, they all were in a line, a daisy-chain of large, dark shadows under the water. After a number of casts to passing fish, all ignored but for one close call, one school approached.
I cast my line out well in front of the first fish and let the line sink for a few seconds. I slowly stripped in some line to the rising excitement of our guide.
"Strip, strip, strip! Now, wait — WAIT! He turned for it!"
It is at this moment that my memory begins to go blank. My heart was racing, people were around me, and fish were swimming towards me, but all I saw was that one fish and my fly. And then, suddenly, there was no fly.
"He TOOK IT! STRIIIKE!"
What happened next happened so quickly that the reading of it will take longer than the event itself. As instructed by the books, YouTube clips and counsel of our guide I pointed my rod tip directly at the tarpon and, so as to embed the fly in it's rock-hard jaw, pulled repeatedly as hard as I could on the line — WHAM! WHAM! — as the fish was pulling away and up into a series of thrashing acrobatics that would make even the most feared rodeo bull blush.
The aerial heights of the tarpon are what punctuate any good story of a hooked tarpon. They often mark both the beginning and the end of a story, as they jump so quickly, and shake so violently, as to shake the fly loose from their mouths. You might "jump" a few tarpon, but the ratio of "jumped" to "caught" fish is much lower.
This tarpon did not disappoint. He immediately jumped 2, 3, 4 times, right next to the boat. All 90 lbs of this silver fish, prehistoric and immense, was out of the water less than twenty feet from the boat. I was in such shock that I barely remember the jumps. Why? Because I was bowing, bowing to the king.
It turns out that you bow to the king — bending at the knees and thrusting the rod toward the fish, so as to reduce the tension on the line — faster than you ever thought you could. It happened as quickly as it did instinctively. When the king rises, you bow, wanting desperately to hold on.
Hold on I did, for what seemed like an eternity. After he jumped, he ran 200+ yards straight out with such force that I knew either he would have to stop or I would run out of line. The Hardy Zenith 13 weight one piece rod, and Tibor reel, held tight and cranked up, did little to stop him. The was a fish with in overdrive.
And so we picked up anchor and motored. I reeled as fast as I could. At one point, the fish turned and rant directly at me, and I thought I had lost him. All energy and hope left me. I was despondent. And then, I came tight to the fish again. Again and again, we'd get him close to the boat. We'd get him close to the boat and he'd splash and take off. It was a grueling fight that required all my energy. My forearms were shaking, my palms hurting, and my hips, into which I jabbed the butt end of the rod as I pulled back on the fish, were bruised and raw. After 45 minutes, as the fish rolled onto his side next to the boat, I thought That looks like an awfully good idea, and nearly joined him.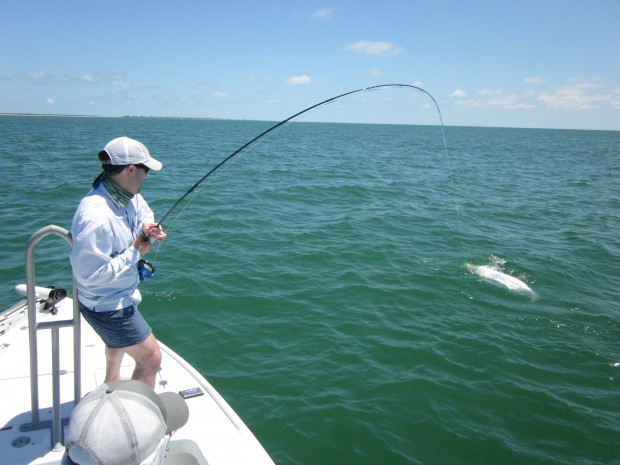 But then, after a few times of getting him close to the boat, I pulled hard and rolled him over, close to the boat. Just when I thought we were about to put a hand on him, the line broke, and off he went — a moment I relive regularly, and am still deeply ambivalent about.
On the one hand, the guide touched the leader. I had him rolling over repeatedly, and next to the boat. After a long fight, I feel like that counts. It's simpler, cleaner and easier that way. But it's not a boated fish. There is no picture of my holding the giant by its silvery maw. No sweaty, leaning over the bow, thumbs up, conquering photo evidence. Nothing to frame. And, worse yet, there is the endless taunting of family and friends that it wasn't a caught fish. To which I can only say, right they are, and then ask for another beer.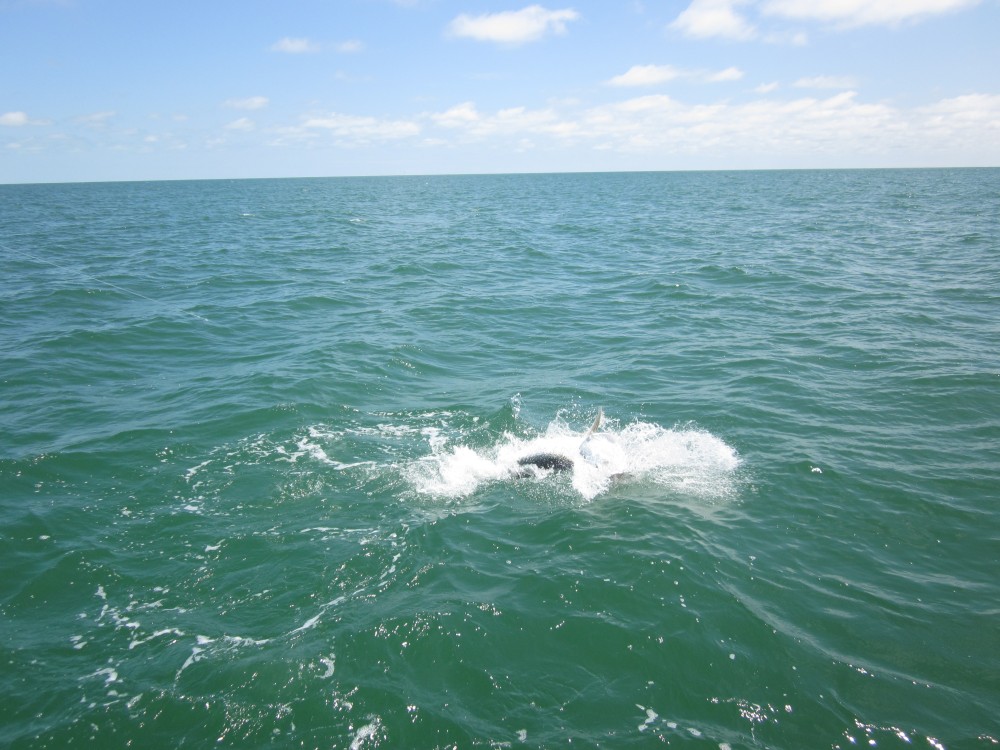 —
Note: Our guide was the Good Doctor Anton Barrington. He's a great guy, and associated with a few local outfits, including True Flies (a great brand if you don't know it). If I'm lucky, I'll be darkening his doorway again before too long. Find his info here.  http://www.trueflies.com/pro-staff.php