In preparing for my trip to the Gaspé Peninsula, I was planning on searching for two types of tail: Atlantic salmon, and striped bass. I needed a reel whose drag system was strong enough to stop a Gaspe salmon, and durable enough to withstand nights in the surf and hours on dirt roads. Moreover, I wanted something that looked good: something a bit classic, and bit modern, but not custom.
Enter the Hatch Finatic
reel series.
Over the months prior, I had heard a lot about Hatch reels. Namely, one friend who's a former guide and an absolute incurable gear-head spoke volubly about them as the best reel he knows. He had six of them, maybe more. The guys down at the local fly shop backed up his enthusiasm. Pulling them out of the glass display case, I felt them to be solid but not heavy, strong without looking like a Volvo DL, and just classic enough that they might meet with approval on the storied waters of the Gaspe. Game on, I thought.
But how would the reels perform? Beautifully, I was to find out.
Aesthetics: Simple, Clean, A Bit Classic & Bit Contemporary
The look of Hatch reels reflect their makers: started in 2003 by a graphic artist and the owner of a high-end machine shop, the Hatch reels are well designed, in every sense of the word.
I grew up privileged enough to fish some of the finest reels made: Bogdans and Hardy's in fresh water, Tibors in salt. The choice of a reel is a kind of cultural choice: do you want to wear waxed cotton, or Gore Tex?
With the Hatch reel, you need to know what you want — sort of. Aesthetically, it's neither the classic look of the Bogdan imitations, nor are the off-the-shelf models on the bleeding edge of bold contemporary aesthetic tastes. To me, that's a good thing: the Hatch reels are of more their time than of times past, but their designs are informed simplicity and by restraint, making them a bit more timeless. They are a best-of combination, not a compromise.
That's not to say that you can't push the visual edge with these reels. Hatch has a custom shop — a bit of misnomer, as they're more limited edition reels than custom reels a la Abel reels truly custom designs — where they offer some more colorful, if not flamboyant, designs. These are not to my taste, but I can certainly see the appeal, and recognize that's what many want.
The graphic design of the Hatch brand is taken from a similar book: it's clean, crisp, restrained. Upon inquiring, I found out that one of the owners does a lot of the photography, did a bunch of the design, and oversees the brand. As someone with a design and branding background, I appreciate both the involvement and the product: from the red "H" lettermark to the flashy red sheepskin lined reel pouch, it's very well done.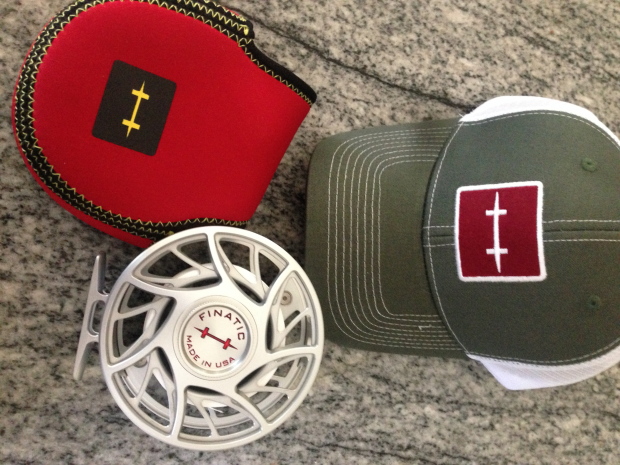 Drag Performance: Strong, Really Strong
The Hatch drag system worked well on my trip, despite my deliberate abuse.
Before hooking into a fish, I had driven with it on my rod rack down miles and miles of dirt logging roads. I had used it for hours in saltwater, with no outdoor hose at the rental cabin deep in the woods to wash it off upon my return, often alternating between fresh, salt, and dirt. I didn't intend for this, but it was if I was challenging the reel's design: "A completely sealed drag system, you say? We'll see about that."
And see I did: fighting the two Atlantic salmon on my trip, the reel performed well. There was seemingly no start-up inertia (that which leads to the line being let out in jerks, as opposed to a consistent motion, and leads to lost fish), and a perfectly smooth performance. With one, I dialed the drag up at the end, to prevent against over tiring the fish and ensure a successful release, and it proved strong enough to pull the fish in while sensitive enough to allow the fish to take short bursts of line when it needed to. The same was true of the innumerable Bay of Chaleur striped bass I caught on my trip. (More about that in another article). The drag was consistent in doing just what I wanted it to do. Yellowstone Angler has noted some problems with the reel juddering after 3lbs of pressure was applied, but I didn't notice this.
The drag system is comprised of alternating discs of stainless steel an Rulon, explained by the co-owner of Hatch as being a "a teflon based polymer injected with different fibers — graphite, etc — that, when it reaches a certain temp, emits its own lubrication." This stack of material (picture below) and a stainless steel one-way bearing form the foundation of this sealed drag system.
The Finatic 9 Plus — the reel I was fishing — has eleven discs, 6 Rulon® and 5 stainless. The result is 10 interactive drag surfaces that you can dial in with a fair amount of precision, and a larger total contact area than most single, flat surface drag designs. It's simple, yet it work quite well.
The Finatic Series: Hand-Crafted in USA
The Finatic series, introduced by Hatch in 2012, is Hatch's principal line of reels. I went with the Hatch 9 Plus, a reel noted for its versatility: it's capable of running 9–12 weight lines, and your choice of mid or large arbor spools.
Made in the San Diego of the highest grade aluminum bar stock, these reels boast one feature that people love: an integrate reel foot that i machined as a part of the frame. The result is not only a solid looking reel, but no foot screws that can oxidize, and more lateral stability — stability that is further advanced through the spoked design.
The weight of this reel perfectly balanced by Beulah Platinum Spey 8 wt 13" 8" and my G Loomis GLX CrossCurrent 9 wt. The spey casting, in particular, was a breeze with this reel; not too much, not too little. A great balance.
One thing you can say about these reels: they are American made. They have about 200 people in the shop, and though they are produced in a CNC lathe (this isn't Nashua!), this is not the same CNC lathe that seems to produce so many of the generic looking reels you find in the large retail catalogs.
Completely American made, and handled by many in the shop before landing on your door step? A damn good thing.
Backing: A Simple Bonus
Finally, a note about Hatch's backing. Not many know they make one, but they do — and it's time you took note.
Much of the backing I grew up with with a troublesome kind: it cut into itself, built up on and settled into the reel in unpredictable ways, and was thus hard to fill onto a reel with complete confidence.
Hatch makes a premium braided backing system that is suitable for all fishing conditions.
That's what I love about it: they began with a recognition that the backing offerings available were too complicated, and have radically simplified it into a single 8 braid PE line with the same diameter as 30lbs gel spun and, according to Hatch, "touch and feel of Dacron." I can't account for the feel, as I haven't fought enough fish on it to say, but I can say this: I respect the innovation, and didn't lose a fish on it. 
Overall Experience & Recommendation:
Overall, this is a great reel for anyone who chases strong freshwater species and saltwater game with equal enthusiasm. Its price is within reach, its design classic and contemporary, and its performance solid. Hatch is doing great things — and, with their new lines and pliers, they're doing even more great things. Stay tuned for more on them.
Specifications:
Price: $750
Spool: $350
Protection: Type 2 Anodize
LINE WEIGHTS: 9-12
DIAMETER: 4.25″
WIDTH: 1.375″
WEIGHT: 10.6oz
COLORS: Black/Silver, Clear/Black, Clear/Blue, Clear/Green, Clear/Red
BACKING CAPACITY
Hatch Premium/MA Spool: WF9F-360, WF10F-335, WF11F-300, WF12F-265, Hatch Premium/LA Spool: WF9F-285, WF10F-240, WF11F-205, WF12F-180, 30# Dacron/MA Spool: WF9F-360, WF10F-335, WF11F-300, WF12F-265, 30# Dacron/LA Spool: WF9F-285, WF10F-240, WF11F-205, WF12F-180 
SPOOLS: Large Arbor, Mid Arbor
Buy One Here: Hatch 9 Plus Finatic Reel