"They're right there. Right theeeere. There….."
This is the point at which your guide, or your friend, usually turns to you, notices you forgot your polarized glasses, and asks with furrowed brow: "You don't see them?"
There is nothing worse in fly fishing than putting everything together — being in the right place, at the right time, to find just the fish you were chasing — and then to not be able to see them. Similarly, if you were alone, you might not even know there were fish there. This raises a question: Is it a worse fate, or a better one, to be unable to see the fish, or to not know they are there at all?
The answer is simple: you should never have to ask yourself this question. The day you do is the day you regret for years to come.
For me, a good pair of polarized glasses is as important as a good pair of waders and, in warm climates where wet wading is common, even more important. One could argue it's more important than the precise right fly: you can sometimes coax fix into taking generic patterns, or find a hungry one and get lucky. You need a rod and a reel to match the target, and you need to be able to see the fish.
So firm is my conviction in a good pair of polarized glasses that, as my fiance will tell you, I hardly ever leave the house without my polarized glasses. I clean them, I keep them in their original case, and I extol their virtues to all who will listen — typically, this leads me to extol the virtues of Cost Del Mar, who makes a great pair of glasses for every fly fishing occasion.
I've owned a pair of Costas with brown-colored lenses for a long time: they are great in freshwater. But recently I was looking for a pair of glasses that specialized in surf and inshore saltwater fishing — a place I am spending a lot more time these days.
Given my conviction in the importance of polarized glasses, I was looking for something that would provide the best clarity of sight in saltwater, would fit well over hours of continuous use, be tough enough to withstand the rigors of saltwater fishing and, should that fail, a good warranty to back it up.
My choice? The Costa Del Mar Tuna Alley 580P with green mirror lenses.
History
Costa's website says very little about their history — a shame, as the story is a good one, so far as I can tell. Here's what little I know of it.
Costa was founded in Florida in 1983 by Ray Ferguson, a lifelong fisherman. According to most histories, the founding of the company coincided with (perhaps caused by?) a donation to the National Oceanic and Atmospheric Administration (NOAA) of a pair of specially designed sunglasses, where they proved so popular that the agency later endorsed them.
From there, the glasses became a hit on the America's Cup, beginning with the Australian team. They were then picked up surfers and, towards the end of the 1980s, by the Cousteau Society. In 2001, they were bought by Essilor International, a French company that specialized in optics. Costa's headquarters remain in Daytona Beach, the city in which they were founded.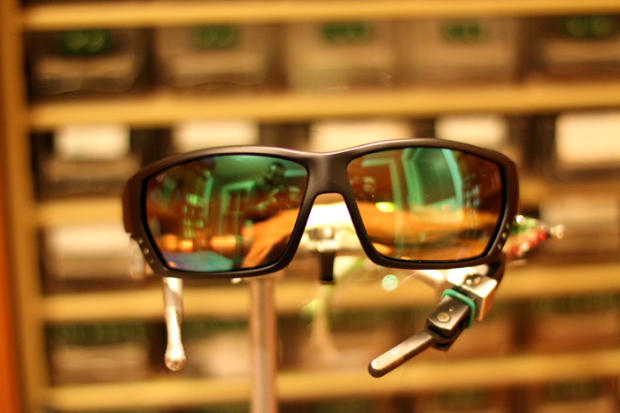 The Lens
Costa offers two different lenses: the 400 and the 580. These numbers corresponded to the visible light they block: the 400 lens eliminates glare at the 400 nanometer mark, whereas the 580 lens does the same at 580. Both provide 100% UV blockage and are 100% polarized.
Introduced in 2000, the 580 is Costa's premium lens. It targets yellow light, the hardest for the eye to process, and significantly limits the amount that penetrates the lens. The result is a dramatic reduction in the amount of glare. As a result of the reduction in glare, as well as the lens color, the 580 yields enhanced color saturation. The result is best told by way of a story.
A couple was fishing in Bermuda, and took lots of photos on film. When they had them processed, they were disappointed: the color in the photos looked dull. Then, one day when they were leaving the house with their Costas on, they glanced at the photos on counter and said, "That's what I remember it looking like!"
These lenses aren't like some of the polarized glasses I wore growing up that made the world darker, or slightly greener. They make the world more vivid, and the fish beneath the surface significantly more visible.
The 580P is made from a polycarbonate (or plastic) lens, not from glass. This makes them significantly lighter, and more impact resistant. It also makes them lighter, for a better feel over those epic days on the water.
Starting with a copper lens base, the green mirror lens is designed for inshore and flats fishing. Given my desire for fit, and for something for inshore fishing, it was the 580p green mirror lens for me.
The Fit
Here's how I judge a good fit: you can leave them on all day, and despite the salt and sweat you never know they're there. The Costa's have done just that, every time.
Fit is a challenge for me, as I have a physically large head. And, I wear my glasses all the time. The result of this combination is that I tend to find the discomfort in glasses quickly: they squeeze my face, or settle awkwardly over time.
The Costas don't do that. Their construction — wire frame core — and their process — coinjection, as opposed to glueing — makes for solid but flexible frames. Moreover, Costa's Hydrolite™ material (think of it as the rubber that contacts your ears and your nose) is sticky without being sticky, preventing the glasses from ever falling down your face or leaving dimples on your nose. Many Costas also boast stainless steel hinges, a costly but worthy feature: They're corrosion resistant and flexible.
Bonus: Lifestyle & Conservation
As if that wasn't enough, Costa has one thing down: their lifestyle branding. It's simply some of the best I've seen — their photography, their videos (GEOBASS, most notably) they produce great, compelling content. If you don't follow them on social media, you should, and if you don't know their videos you should check them out here — there is some entertaining stuff.
Beyond quality, they also care about conservation. Their partnership with OREACH, "a group of explorers and scientists dedicated to generating previously unattainable data on the movement, biology and health of sharks" so as to help protect "their future and educate the public," is a great program. Similarly, Costa's Protect Guyana program starts with some bold language: "Costa is on a mission to protect the world's waters by promoting sport fishing. This sport is environmentally friendly, sustainable and native to local cultures."
It's not quite to Patagonia's standard of environmental stewardship, but it's an excellent start and I hope to see Costa doing more of this.
Summary: Highly Recommended
This fall I was fortunate to hit the false albacore and striper blitz at Montauk spot on with a friend. What did we bring with us? Costas, both of us.
We lost count of fish that day, but one moment stands out: fishing from a boat, we followed a school in real close to shore and, with the sun behind us, stood casting to schools of albies, stripers and blues in shimmering green water. We connected because we knew where to cast — because we could see the fish with clarity.
The only disappointment I have with Costa is that I don't get to tag along with their GEOBASS crew. Those guys look like they have so much fun.
Otherwise, I cannot recommend these glasses highly enough. Given it's that time of year, I'd say: though small, they'd make a great Christmas present for an avid fisherman. Hint, hint!
Tuna Alley 580P Specifications (From Costa website)
Comfortable large fit.
Integral hinge.
Heavy-duty TR 90 nylon frame.
Includes hard case.
100% UV light blockage for max protection.
100% polarization kills reflected glare and reduces eye strain.
Plastic lenses.
Prescription ready.
BUY: Costa Del Mar Tuna Alley >>