On a recent trip to Pulaski, NY to fish for steelhead I made a decision that I came to regret: I didn't bring camera gear. I had my iPhone 6, which arguably has a good camera, but as a former professional photographer the iPhone doesn't enable the full feeling of "story telling" I have when I hold a DSLR camera. I went for the easy route, but lost creative control in the process.
There is a balance with fishing and photography that I've found to be a challenging one. Am I there to fish or to take pictures? My goal is to do both without diminishing the fun of either passion – and, in talking with friends, I know many struggle with the same questions.
How best to pack a camera for a fishing trip? What should you bring? I'd like to share some of my thoughts on these and related questions, as both an avid fisherman and a photographer. 
My reasoning for not bringing my camera to Pulaski was twofold: the unknown and also the forecast. How far are we hiking, I wondered? It's going to be raining all day; do I really want to use my camera in the rain? Do I really want to carry all that weight on my shoulders after fishing all day?
This trip underscored what has become, for me at least: to bring your camera gear, whatever the cost. It allows you to share memories on the river with friends and family. It gets you through the long winter months, when fishing trips are few and far between. Also, the weather was wrong that day and only rained for 20 minutes or so and then bright sun. Guess what happens after? Yep, a big rainbow over the river and big fish.
My fishing photography gear:
I'm not really going to talk about GoPro stuff. Keep it in its waterproof housing and you're good to go. Small tip: superglue the bolt so that it doesn't fall out when mounting it on different accessories. It helps for quick changes on the water and not having to worry about that bolt.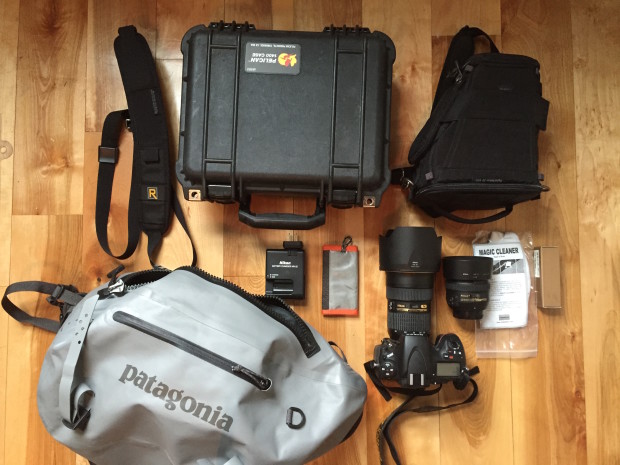 I have more than what I've listed below but rarely bring more then this on a fishing trip. 
Nikon D800

Lens cloth – Generic

Cotton towel – Generic

Pelican 1400 Case
Lens Choice:
My goto lens is the Nikon 24-70 2.8.  I've asked myself before about why I use such a heavy lens. I have a 50mm 1.4 that would be much lighter. So why is it worth the extra weight? Having that small zoom range allows me to compose my shot without having to move very much. You don't want to be moving a lot while standing in a river with expensive camera gear exposed!
Strap v. No-strap: In everyday shooting, I hate using a strap: it gets in my way so I leave it off. If I need to carry my camera, I use a rapid strap which allows to me to carry my camera easily and keep it out of the way. However, when I'm fishing, the situation is inherently unstable: I'm climbing over rocks, standing in water, etc. Given that, I prefer to have that security of the strap that I can either wrap around my wrist or neck.
I see people all the time shoot with their arms extend out which provides no support for the camera. There is a stance that helps you take better pictures. The easiest thing to remember is keep your elbows tight to your side. You are the tripod so holding your arms out freely is going to create unnecessary movement. The strap can help you with this stability when shooting video or photography. Make the strap longer then what you normally have it, place it around your neck and extend your arms. Now you've created tension that helps keep the camera still and you can rotate your body and make beautiful moving shots with no extra gear to carry.
Keeping your Gear Dry: How do I keep things dry? My approach and methods depend on whether I'm on a boat or on foot.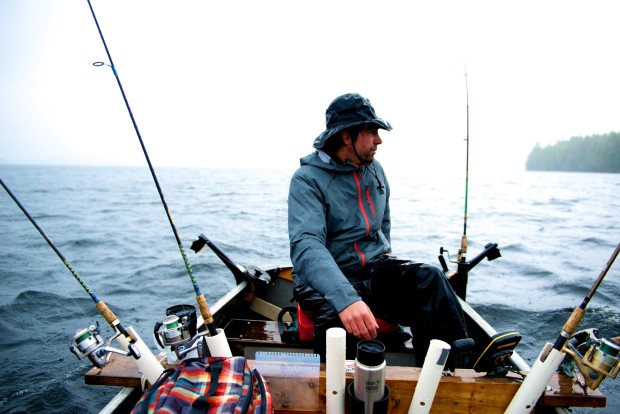 On a boat, the easiest thing is to use a pelican case. This could be a no brainer to some people but it makes it so easy. If you own a DSLR, spend the $75 to protect it. I never would have brought my camera out on the trip pictured below without a pelican case. I probably only took 15-20 pictures but the results are worth it. It poured rain all morning and my camera sat in water the whole time. Dry as a bone.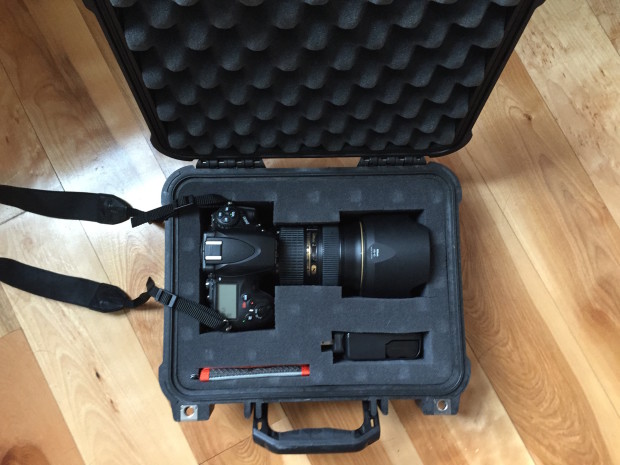 On the river has taken me a bit to figure out. I believe I have figured out pretty good system though. First bag is a Patagonia Stormfront Sling 20L. I don't suggest using this bag as your go-to fishing bag on the water while carrying your camera. I use a waist pack for that. I did that once and fishing with this fully loaded is a lot to take on. Leave it on shore and only grab it when taking pictures. It easily fits spare clothes and lunch for the day as well.
Inside of the Stromfront bag is my Think Tank Holster bag with the camera. I can remove the camera without taking the bag out and works perfectly. Since the bag is waterproof, you don't need to worry about your camera at all.
If you're on a minimalistic outing for say an hour or so, bring your point and shoot This happens often when I'm camping alongside a river and I just want to get out quick and not carry a bunch of weight. For this type of photography, I just put the camera in my lumbar pack and call it a day. Don't worry about that camera all that much. It's not that expensive, and can withstand being thrown in a bag. 
When I'm fishing saltwater, I tend to only use my phone or a point and shoot. I've brought my DSLR before but don't usually want to leave anything on the beach and the gear gets heavy pretty quickly. Mostly, though, saltwater is really hard on cameras, just like its hard on fishing gear: exposing your photography gear to it requires that you clean and care for it meticulously. This is time consuming and a bit risky. If I'm on a boat in the ocean though, I will take my pelican case and protect the gear as much as possible.
Final Recommendations:
In short: take your camera. Always. Your friends will thank you for taking the little effort to bring along a good camera.  And you will thank yourself, come snow, for the entertainment the pictures provide.
You don't always need to take the best, or most expensive camera. But do take something, keep it dry, and make sure you shoot.
You never know what you'll capture. In my experience, that is often when the best photos are taken.
Ben Brunt is a professional designer and photographer who lives in Boston, MA. A native of Maine, he is an avid fly fisherman. This is his first post for New England on the Fly. For more, visit: benbrunt.com