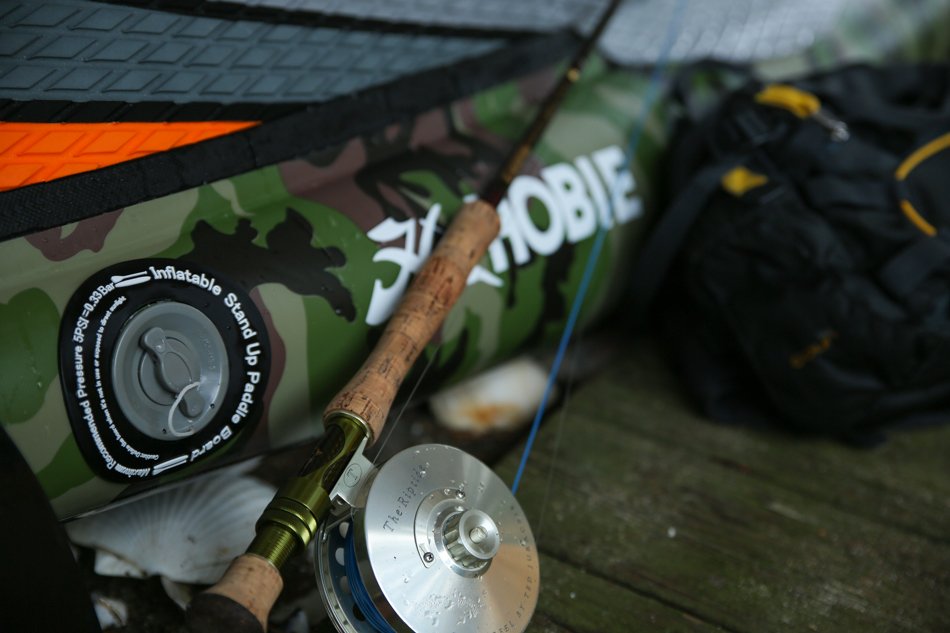 If you're like me, you're too cheap to buy a boat, but you sometimes feel limited by fishing from the beach. You want an option in the middle — something not too pricey, and something that doesn't require too much maintenance, but something that will increase your ability to cover more water, more quickly.
Such was my thinking in trying a Hobie SUP called the Sportsman — a title it telegraphs through the dark camo exterior. Past experiments with smaller watercraft have been mixed. For instance, I once took a canoe out on a tidal pond in RI during a worm hatch and, when the wind picked up, it blew me all over the pond. It took all the paddling I could muster to get back to shore. My fishing partner that day? Amused, and polite. Me? A tired and frustrated fool.
No such trouble with the Hobie Sportsman. My first run out on it was easy: I didn't fall once. I rode some gentle waves, crested a few, paddled around, and chased after a kayak who was, in turn, chasing stripers.  The inflatable body gives it a Zodiac like form, with two air-filled chambers running length-wise down the exterior, and a similar stability. You can rock on this SUP, and it doesn't tip. A number of people commented on this, in fact. One called it a tanker — unfair, I thought, as who likes to be called a tanker? — but they meant it as a compliment to its entirely stable form.
Another challenge with the canoe is mobility. Sure, once on the water you're mobile, provided there's as much wind as there is in an underground bunker, but depending on its size getting the canoe to the water can be another story. Removing the Sportsman from the roof of my car, walking it to the beach, and generally moving it was fairly easy. Unless you have the wingspan of Jordan, no SUP of any size is as easy to toss as a carry-on, but given this one is inflatable, and not solid materials, it's fairly easy to move.
It's also fairly easy to pack. Unpacking it from the box was a cinch. It arrived in a small but bulging box, and when unfolded and inflated we marveled at its size, much as one marvels as clowns emerge from a car. It's remarkably easy, and remarkable how much fit into the box.
Alright — enough, you say, with the preamble; but how did it fish? It fished well.
Here's what I'd say. Fishing from a SUP takes some getting used to. It's typically not the most stable platform, so you have to be confident with your balance. And unless you have a sup dedicated to fishing — with a casting-stand to support you, and a cooler to sit down on — you're typically not going to be bombing 90 feet of line. This is more about tactical approaches to water you couldn't wade, or couldn't access in a boat.
Like the tidal estuary I fished from the Hobie. It was mid-tide, and I had seen bass slapping the surface the night before. So I headed out, and scoped it out. Paddling around was easy, I had great visibility from up off the water of all the aquatic life, and given I was in a smaller estuary, I didn't have to make any long casts.
For anyone looking for a highly mobile SUP to fish from — one they want to be able to pack up into the car, and stow away — I would highly recommend the Hobie Sportsman. It exceeded my expectations, as well as everyone in the family — and, for that matter, on our beach — who tried it. I could have sold five of these on the beach the day I took it out; people loved it.
Length:

10'9″ / (330cm)

Width:

38" / (96.52cm)

Thickness:

5.75″ / 7″ (14.6cm / 17.78cm)

Volume:

282 liters

Weight:

32lb / 14.51kg

(+/- 2kg)

Triple Air Chamber TAC- construction
Features
Hi-Tech drop-stitch construction allowing inflation over 10 PSI for extreme rigidity
4" Center chamber with 18 Threads per square Inch, inflates to 15 PSI for a rigid platform to paddle.
Two 6" side chambers, inflate to 5 psi for added stability.
Three high pressure spring valves for quick and easy inflation and deflation
Multiple D-ring hold down points and Bungee® cords in front and behind standing area for lashing down cargo.
Durable skid plates on outer chambers for durability
3/4 length EVA foot pad provides grip and comfort
S3 Foot plates for added board rigidity
Built-in convenient carry handle
2 plus 1 fins with removable 8.5" center fin
Multiple Stainless steel D-rings on some models for tying off to boats, docks, etc
Bungee® tie down system
SUP Rider Extraordinaire: Mike Reece, from Alberta Canada.