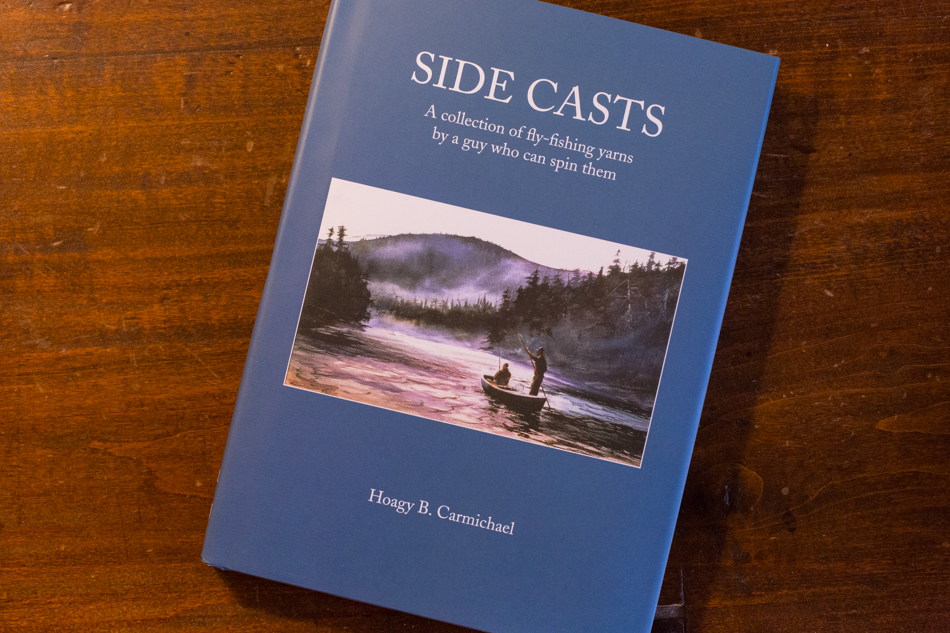 I'm proud to share that my dad has published a new book. This one, called Side Casts, builds off of his prior collection of non-fiction essays called 8 By Carmichael with more stories of both renowned and sometimes forgotten fly fishing figures, places, and innovations. It also includes some rather innovative thinking — thinking for which I have immense respect.
Take the table of contents, for instance, which includes these two topics: dry flies on the Alta and the "luck" women have in fly fishing. Let's take each in turn.
For the Atlantic salmon fishermen, the title of dries on the Alta might give one pause. The Alta is, after all, nestled in the bottom of a deep river gorge, making the water fast, deep, and dark. Large, beautiful boats, carrying large, double-handed rods and wet flies are de rigeur on this river. Deep sink tips  and sinking lines are common. Large weighted tube flies are common. Dry flies? Never. Literally — never. Enter my dad, river right.
On a trip to the Alta, he – the bamboo-wielding trout fisherman turned salmon fisherman – insisted on trying dry flies. His guide was miffed, to say the least — until he rose and later caught a salmon. To the guide's knowledge, this hadn't been done before. This is a great story of innovative thinking on the most traditional of rivers.
Another example comes in an unusual form: women in fly fishing. In this essay, Hoagy looks at some scientific research about phermones, women, and salmon. If I'm honest, I'd say there's more research to be done — but the statistics, and the stories, are convincing. I've certainly been in camp and witnessed novice and experienced female anglers outfish men in startling numbers. The full story, and my dad's thoughts, are unusual enough that its worth the price of the book alone.
Certainly, women are deserving of a larger role in our sport — and deserving of more credit for the history of it as well. Hoagy devotes a chapter, and quite a few space in some other essays, to women, both in the story of the development of weight forward lines, and in the story of Peter Pratt's big fish at Frazier's.
I'd suggest you pick up a copy — and I'm not just saying that as his son. It's a great book, by a man as devoted to preserving our sport as anyone I've ever known. I'm proud to have been a part of the project, in the editing, and to share this book with all of you.
—-
If you'd like to order a copy, you can do so through Amazon
 or you can purchase a signed copy directly from my dad through his site, www.booksbycarmichael.com.
Description from his website:
"Side Casts is a collection of ten pieces written by Hoagy B. Carmichael, some with a historical bent, and others about angling notables that he knew. Included is a biography of rod maker Everett Garrison, and a recounting of how their book, "A Master's Guide to Building a Bamboo Fly Rod," came into being. There is a piece about several of Salon Phillippe's Easton, Pennsylvania rod making friends, as well as the story of Hoagy's good friend Ed Fody, and his journey to becoming a rod maker of note. A sketch detailing the development of weight forward fly lines is included. There is also a touching memory of Carmichael's last weekend with Stan Bogdan, as well as an unusual three days on the great River Alta in Norway called, "Dries on the Alta." Why women apparently attract more record Atlantic salmon than men is unscientifically revealed, and the memory of an emotional rain-swept evening with a forty-four pound, gallant Atlantic salmon that was happily released. Finally, Hoagy's early brush with the store in Beverly Hills, Kerr's, known as the "Sports Shop of the Stars," and its place in Hollywood history rounds out the book. "Side Casts" has ninety unique photos (including one of Elvis in the Kerr's store buying an engraved pistol), and many drawings by the great artist Robert Seaman."
100 pages
90 photos, with an index.
Price: $35