Montana: From Pristine Alpine Lakes to the "Lichen Theory"
Guest Post by Darrell Hartman
Greetings, everyone. It's an honor to be writing on Ben's great site. I'm presenting a recap of a recent trip to Montana. What a place! Anyone who's been following the news knows that wildfires were absolutely torching the Western states this summer. And so it was against a smoky, hazy backdrop—a memorable addition to the atmospherics, to say the least—that I fished two very different parts of the "Treasure State" in August.
The first was Glacier National Park. No beer coolers here—I fished ten to fifteen miles into the backcountry, at a chain of alpine lakes on the way to Stony Indian Pass, one of the most spectacular stretches of the park. A group of buddies and I have an annual tradition: a three-night hiking trip through the some of America's best mountain terrain. Every year we go somewhere different, and every year has its plot twists. In Glacier, it was the raging wildfires (which ended up getting us evacuated a day early) and my decision to bring along a nicely packable six-piece rod.
I'm a novice at backcountry fishing, and without waders or a boat my range on these alpine lakes was limited. All I had to show for a trio of half-hour casting sessions was a little rainbow—we're talking minnow end of the spectrum. Well, a friend also took some solid photos. (See below.) One thing about a place like this: The scenery is so stunning you tend to forget you've got a line in the water. Especially when a grizzly on the far side of the lake jumps in and starts swimming towards you! Thankfully, he thought better of that particular scavenging plan and turned around.
A few days later, legs rested and those pristine lakes a distant-seeming memory, I was down at more familiar elevations—way down, in southwestern Montana. My 76-year-old dad flew into Missoula, all the way from Maine, so that we could get in a couple days on the Big Hole.
Taking care of us there were the friendly folks at Big Hole Lodge. Frontiers had organized the trip, and assured me the place had just about the best reputation around. When Craig Fellin, the owner, opened up in 1984, his first guest was Tom McGuane—the best angling writer alive, for my money. And Fellin later told me, in his unassuming way, that the two of them had recently had lunch. Between the two of them, I imagine these two have quite a store of great tales.
I'd heard amazing things about the Big Hole, but my expectations weren't grandiose. August is hardly the most productive month for fishing. Add to that the fact that the water in Montana was running especially low this year—poor snowfall, a searing June, and significant fishing closures by the time August rolled around—and you have a makings of a lousy tally.
Luckily, though, some very fishable segments were open, and we had a pair of superb guides to drift us through them. The trico hatch was on—so exciting at times that I got the jitters. I wished I'd taken some time in advance to perfect my reach cast, because it would have come in handy, during one late-morning feeding frenzy in particular. Nailing that dead drift in varied current is, it seems, what separates the students from the masters on the Big Hole. Dad did better here, landing a couple nice rainbows and—worth celebrating—a grayling.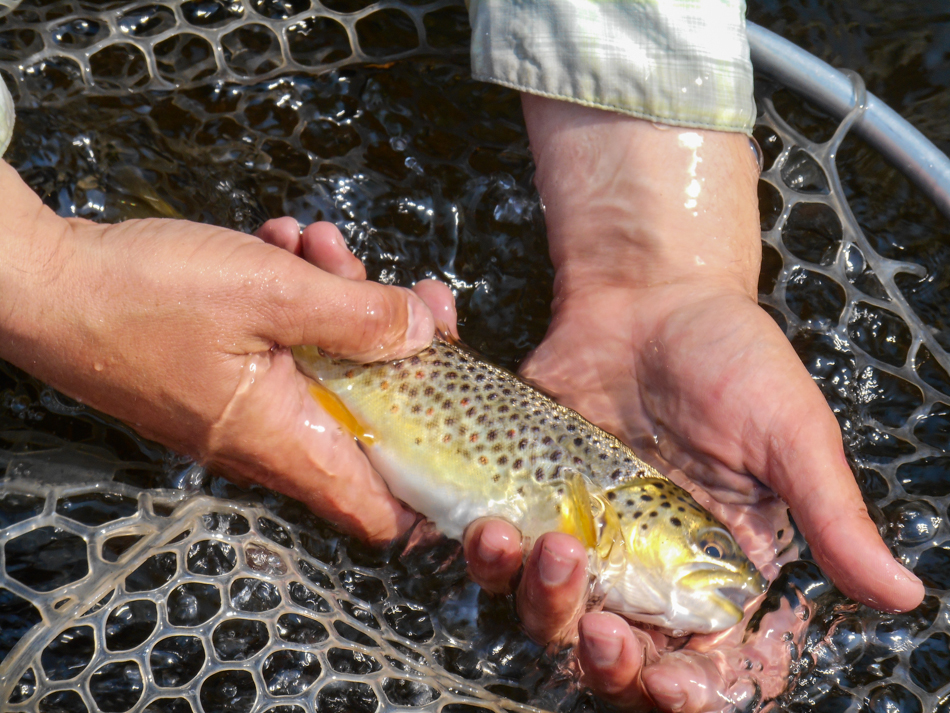 Meanwhile, I had good luck with browns in fast water. Our guide, John Kirk, introduced me to a term I may be busting out for the rest of my life: "the brown trout pout." Ever notice how browns sit there and brood after you put them back in the river, when most other fish will zip off? That's the pout. I told John he should consider trademarking the phrase.
Fellin presided over dinner at the lodge that night. He is deeply knowledgeable about water rights and flows and ranching, key info for anyone fishing this part of the country with any regularity. He's also got some stories, like the one about the veteran packer who took a client of Fellin's into the woods not too long ago. The old horseman brought a Glock 35 with him. "Is that for bears?" the client asked. "Nope," came the reply. Pause. After a nervous moment, the client asked his guide if he might elaborate. "Last time I was up here I had to put down a lame horse with a pocket knife. The horse didn't enjoy it, and I didn't either."
There's more rawness and, well, uncomfortable reality in that story than there is in the plush cabin Fellin arranged for us.  We had to ourselves the building that served as the original lodge—the one McGuane inaugurated some thirty years ago. With its double-wide leather armchairs, Navajo blankets, piles of fishing magazines, and a fridge that came stocked with cold beer, it could not have been more suitable. It was actually more than suitable.
Our guide on day two, Matt Lyng, took an unhurried approach, knowing that a day on the Big Hole this time of year often doesn't really get going before 10. "That's the beauty of the trico—very leisurely," he said.
We covered just three miles of river, half as many as the day before. But we targeted the spots that Matt, who's been guiding on the Big Hole since 1989, knew to contain nice fish. By lunch, Dad and I had together brought in three browns and five rainbows. If we'd been sharper with our sets, we could have had a half-dozen more. We expected the action to slow down in the afternoon, but Dad landed two more 'bows, including his biggest fish of the trip, about 20 inches, in a part of the river Matt had never before found fish in, no less.
Feeling pretty good about himself by now, Dad chose this moment to advance his "lichen theory." He'd hooked those last two rainbows inches from the shore, in spots directly underneath lichen-encrusted rocks. These rocks had tumbled down to the riverbank from a scree-field above. The lichen, according to his theory, indicated that some seepage was going on underneath the rocks, as snow and ice that had been rock-blocked (so to speak) from direct sunlight all summer long continued slowly to melt. That trickle of cold water made a refreshing trout spot for trout, and so the bigger fish naturally claimed it.
Dad's other ideas about angling, gleaned from a half-century of east coast fly-fishing but—until this trip, at least—zero experience out West, had not really gained much traction with Matt. All those years with fly-in clients had, I think, made our guide a natural skeptic. But he cautiously embraced this one. "You got a scientific mind," he told Dad, and he was only grinning a little. In any case—unfortunately for us—he'll have far more opportunities to test the theory now than we will.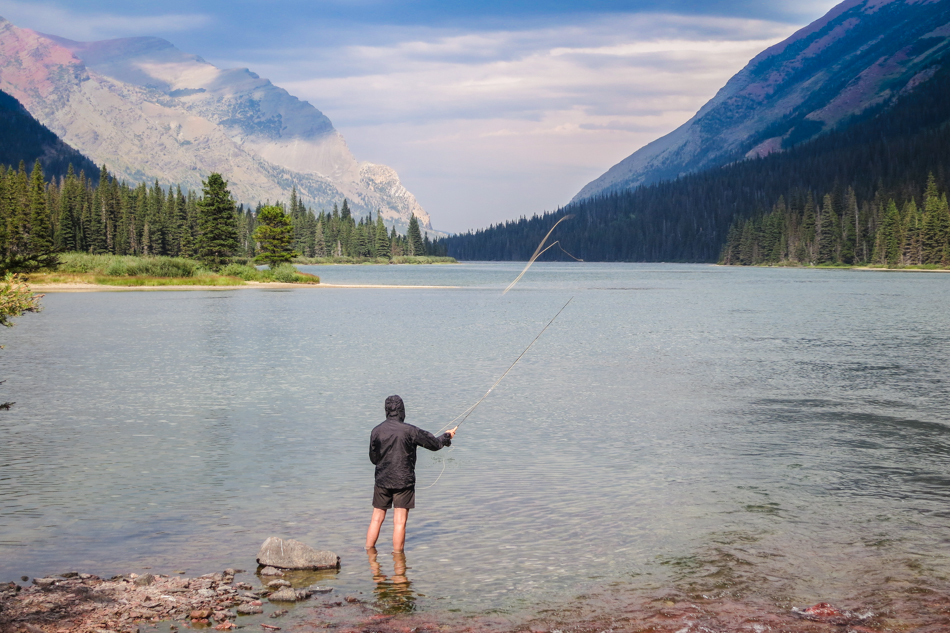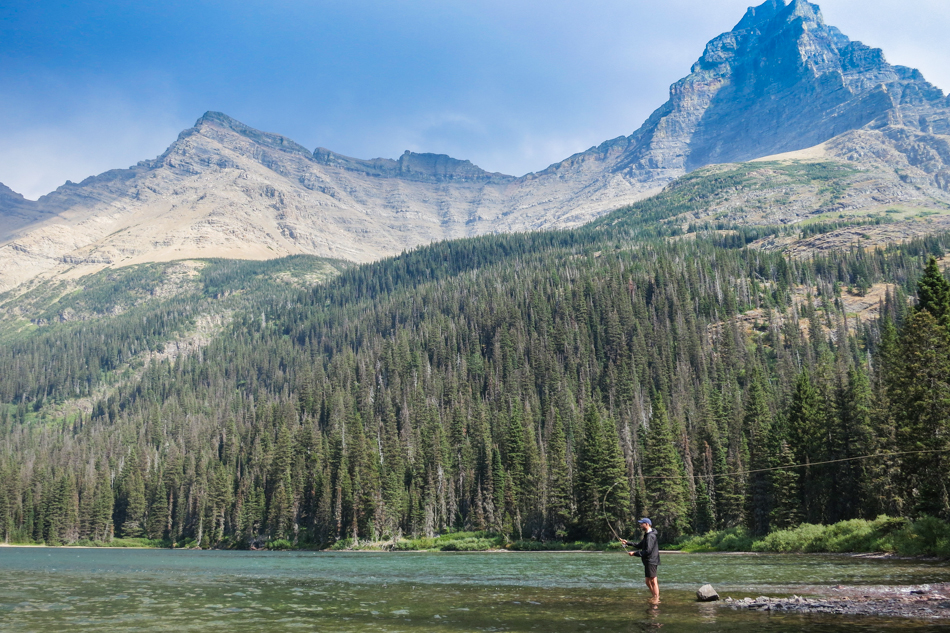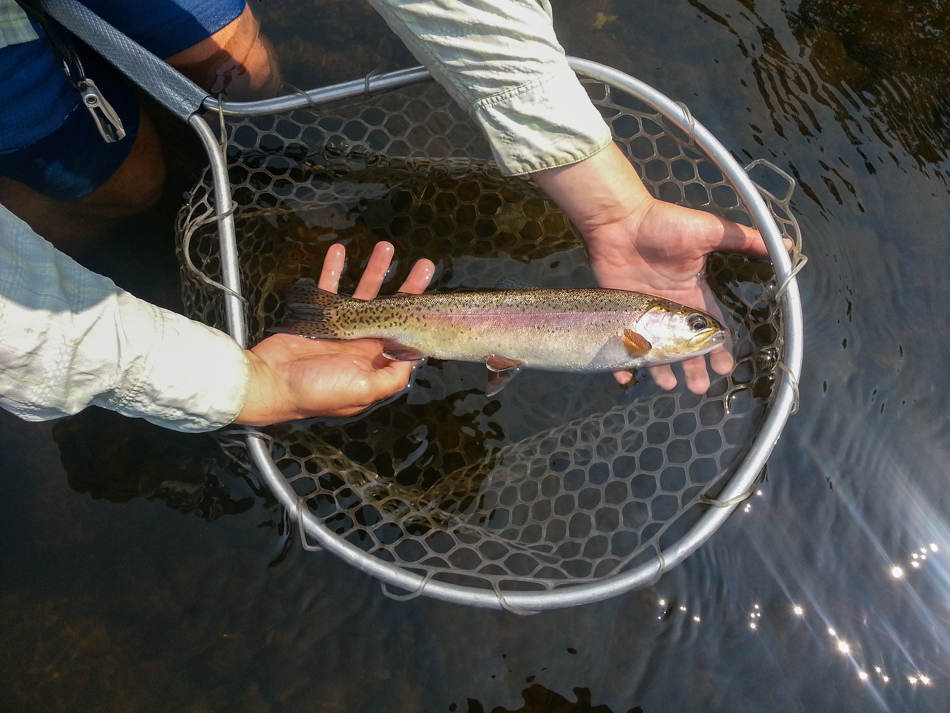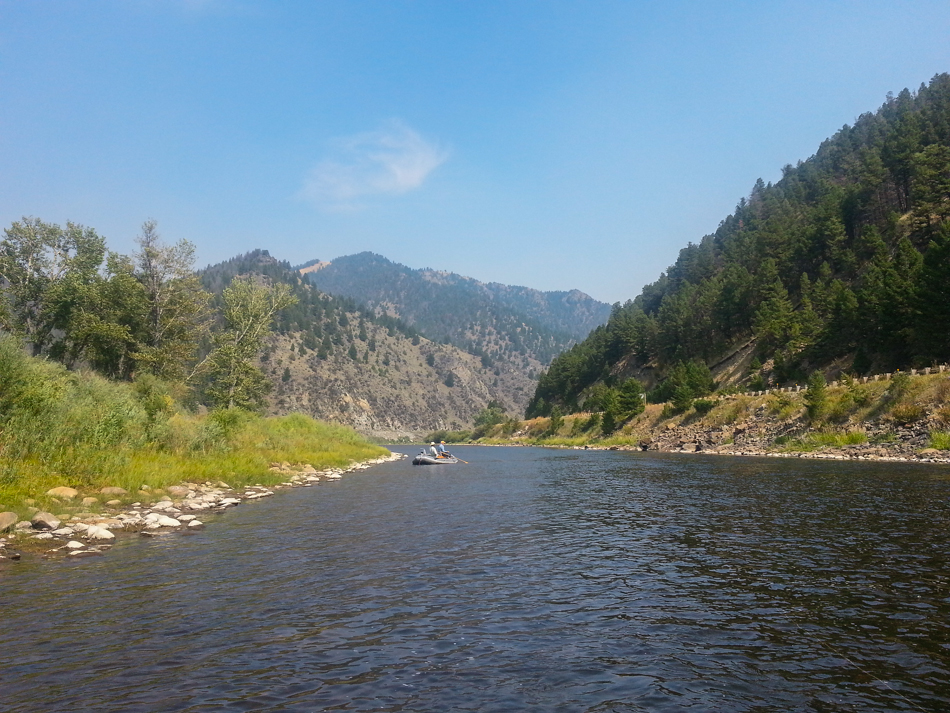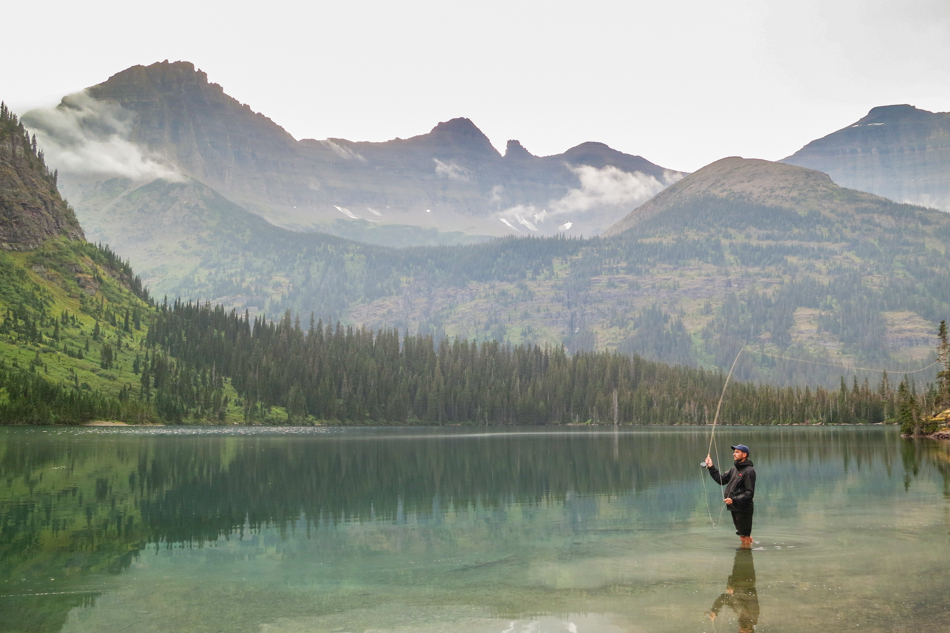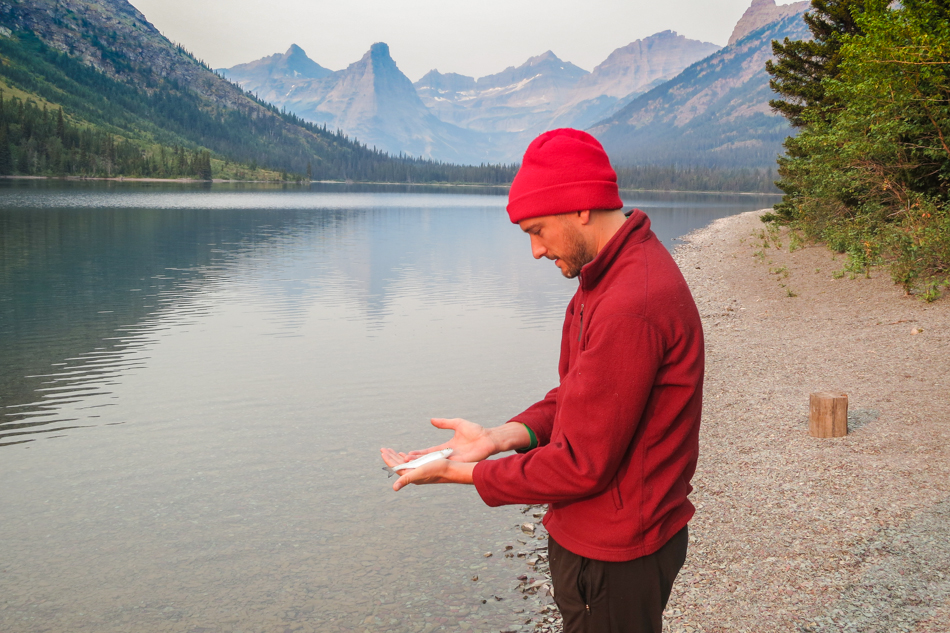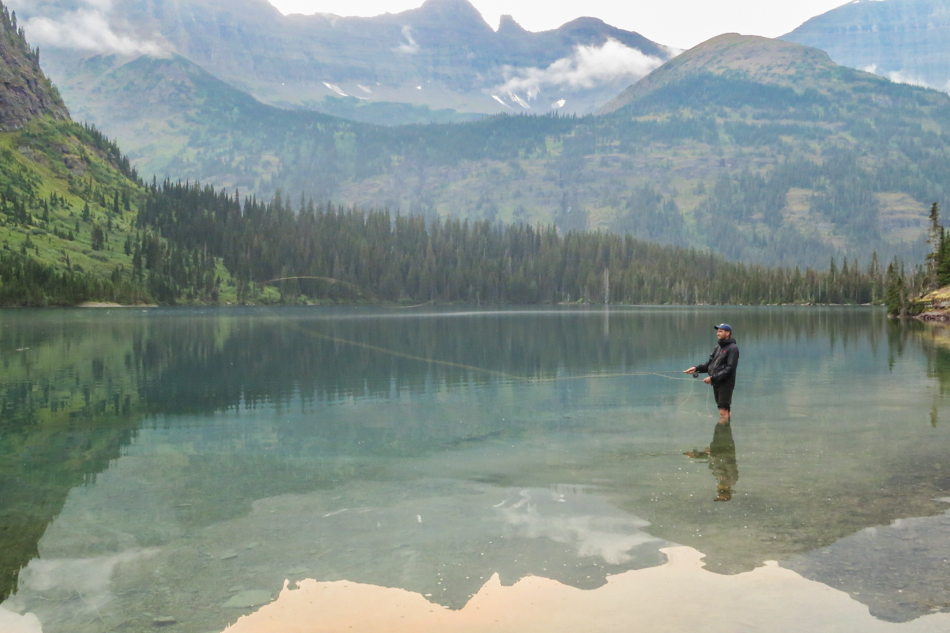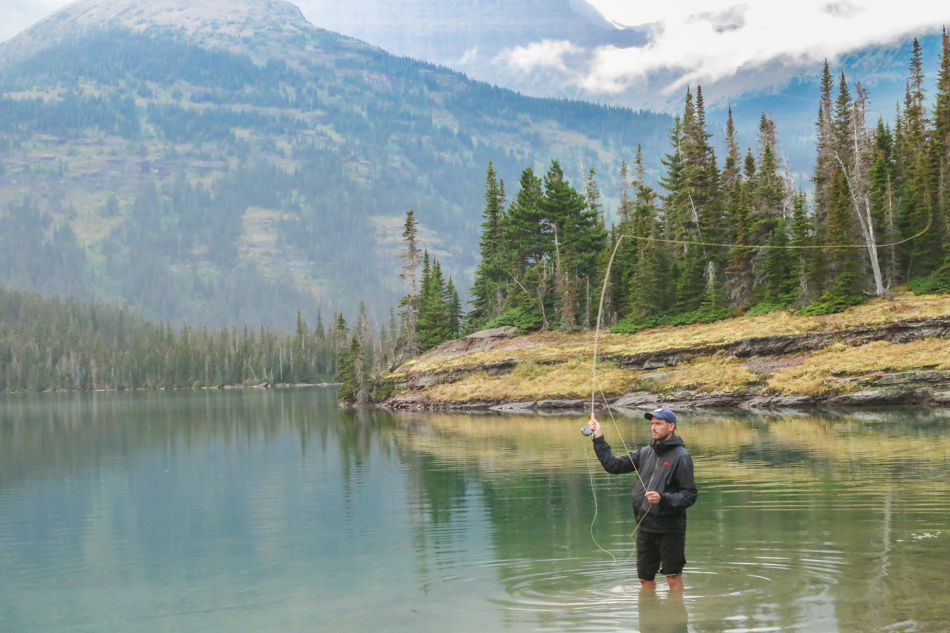 About the Author: Darrell Hartman is a freelance writer. He worked as an assistant editor at Travel + Leisure, and has written about Formula One racing in Singapore, shopping in Senegal, trekking in Nepal, bonefishing in Florida, Serengeti safaris, Istanbul hammams, and Paris fashion shows. These days his main subjects are eco-travel, documentary film, and men's style. Darrell is co-founder and editor of Jungles in Paris and currently lives in Brooklyn. Find his website here.