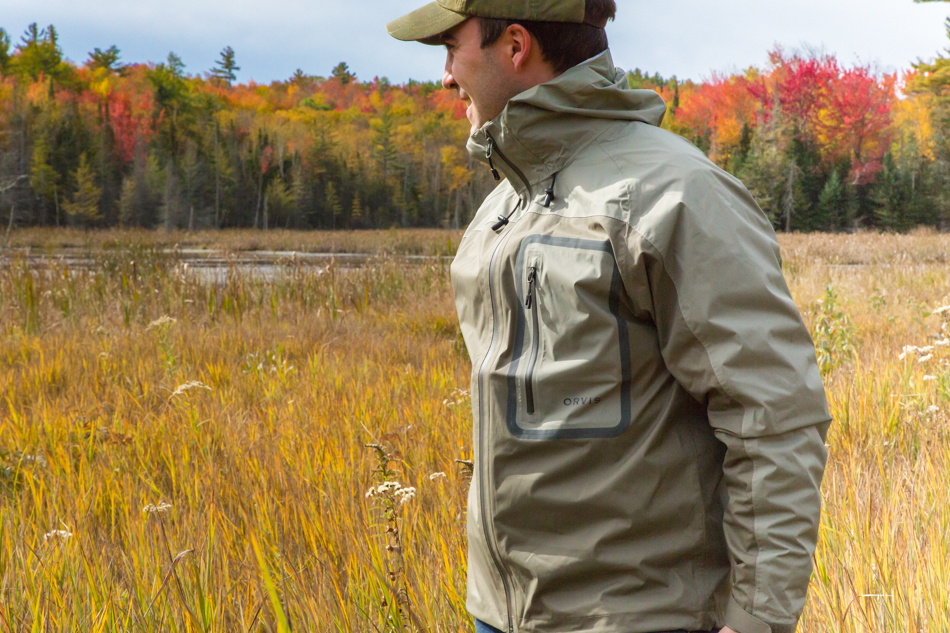 There's one guarantee in fishing: you're going to be near and, often, in the water. Even if you're not wading, conditions change quickly, bringing water from above as well as below. When I was a kid, my grandfather used to joke that there was one guarantee for our annual canoeing and fishing trip in Maine: It was going to rain. Hard.
My old wading jacket began leaking recently — leaking badly, in fact, when I was deep down a logging road, two hours from a town, more than 10 from home, with no other jacket with me — and so I set out find a new jacket. For this, I wanted something that was:
Packable, so I could easily carry it with me in a light pack
Dependable, so I wouldn't be in the same situation again
And not too darn expensive, as I tend to wear my rain jacket a lot.
In looking at the options, I set out to test Orvis's Encounter packable wading jacket.
By packable, I mean I wanted two things from the jacket: first, I wanted something light, and two, I wanted something adaptable. Having something light is great, as sometimes I don't wade the river with a backpack or a sling pack, and so I'd like something that folds into a small lumbar pack or will easy fit into the back of my waders or vest. This also means I want something that is just a shell; it's not insulated, but can easily be put on over an insulating layer, for some added warmth or protection. To do that, the jacket needed to have a bit of room; not oceans of room like your grandfather's vintage Brooks Brothers shirt, but enough to fit a layer under.
This jacket provides both. I fit a nice insulating layer under it, with enough room to move comfortably around. I was able to fold it neatly up into my lumbar pack before I headed out onto the river. And, at 10.5 oz on my digital kitchen scale, it's very, very light in comparison to other wading jackets.
The jacket also needed to be dependable. I can't stress this enough. There's nothing worse than getting caught on one of these trips and not being able to stay dry as here in New England, that often means not being able to stay warm, either. If not dangerous, it's uncomfortable — sometimes, extremely so. And so, on the list of essentials for any fly fisherman, I add a good waterproof jacket with a rod, reel, flies, and waders.
That used to be a challenge; I remember growing up with plastic parkas that, even if they kept the rain from getting in, would get you wet from all the perspiration. And I remember buying my first Gore Tex jacket, roughly at the cost of a month or two of freshly cut lawns. My waxed cotton jacket? A wonder and a graduation present that I cherish — and regularly wax, and fix — but one that, in a summer storm, is roughly akin to donning a cast iron skillet in the sun; sure it will keep you warm, but it gets real hot, real quick. Let me put it this way: it was a natural fit on the chalk streams of England and the salmon rivers of Scotland, where I wore it many time. But here in New England? Save it for a fall evening on the river, or a night at the pub.
The Orvis Encounter jacket has proven to be dependable. I've worn it in a few hard rains, and it's shed water easily, with no leakage. I even stood under a watering hose for a while, simulating a monsoon-esque rain, and nothing penetrated.
Some might look at this jacket and wonder: where are the watertight, dolphin skin cuff system offered on other jackets? If you'd like these, you'll likely have 2x to 4x the price on a jacket. But I have to say: those cuffs work great right until you land a fish when, your hand and wrist wet, the water works its way down into your sleeve regardless. It's a temporary insurance against water that I haven't always found worth the price. The cuffs here are elastic, and easily adjusted, as is the waist with a drawcord.
The jacket does have one small front fly box pocket. It's not a big one, so if you want to carry more than a Tacky fly box, say, you'll want to keep most your flies in your bag, or waders, depending on your style.
The right jacket for a fly fisherman isn't nearly as hard to come by these days. The technology has advanced so that it's dependable, and it's within reach on a reasonable budget. This Orvis Encounter jacket is one such jacket; it's good value for the money, and one I'd recommend
Technical specs:
A single patch pocket on the left chest holds fly boxes or other accessories.
Elastic cuffs with easy adjuster and a drawcord around the waist
 Easily packable in a vest or pack when not in use.
In two-tone sage.
10.5 oz
100% nylon. Washable.
MSRP: Currently on sale for $94 (10.22.15)
—