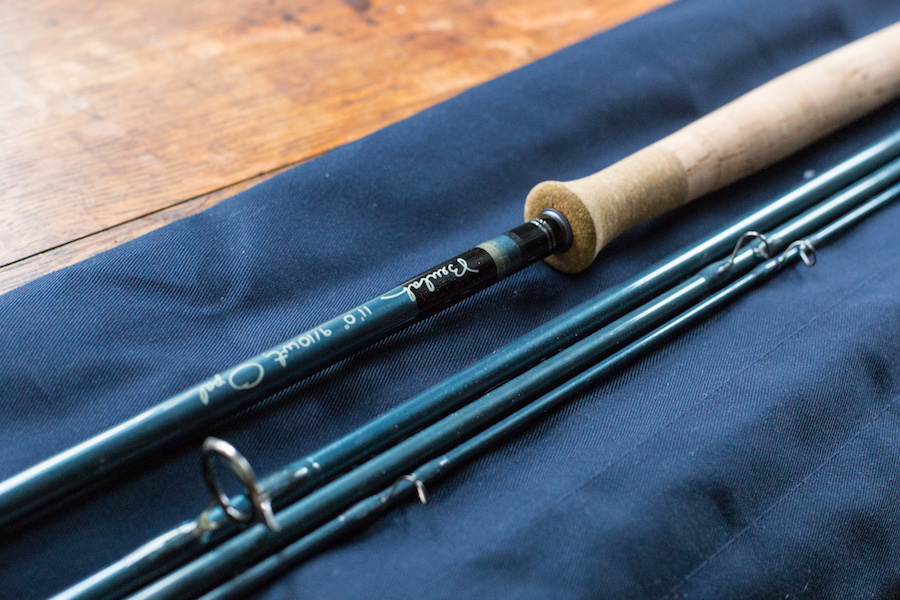 A few years ago, I started looking for a new saltwater rod. Here in New England, I do a fair amount of salt water fishing. That means a lot of long nights, a lot of punching into the wind, and a lot of trying to huck a big fly a long ways with a backcast hampered by rock, estuary grass, or sand.
I won't lie: at the end of the season, my wrist often hurts. Too many double hauls with a 9 wt in too much wind. And so I began to think: there has got to be a better way.
Once or twice a year I go Atlantic salmon fishing and, over the past decade, I've gotten into double-handed casting. First it was overhand casting, then Spey casting. For years, I only used a double handed rod on fresh water. Then, one day early in the season when I felt I had little to lose, I brought a rod I had a built from a Loop blank to the coast of RI and tried it in an estuary. It was phenomenal — and I wasn't the only one who thought so. I was casting bombs and the people around me wanted to know what this guy bucking convention was up to.
And so I set out looking for a double-handed saltwater rod. I settled on a rod made by Beulah, a West coast based company whose rods I first fished when I was looking for a good Spey rod below $800. At the time, I was fishing one that retailed for over $900 — and whose price recently went up. I tried it for a week against a Beulah Platinum Spey and immediately sold it. I've been fishing the Beulah ever since.
With that experience under my belt, I thought I'd give the Opal a shot. I'll spare you the poetry: I freakin' love it.
Part of it is performance. When I'm casting from shore, distance can often make a difference — if not the difference. It's not that every cast needs to be a bomb, but you need to have confidence that when that school of bass, or those Albies, come busting by you can reach 'em. This rod does that. With a fast action it casts quickly and at distance.
It will do that with a variety of lines, but let me make this simple suggestion: you try to the Beulah lines. I've become a fan of the Serum lines, a shooting head line designed for overhead casting in saltwater. With a 35 lbs core, it's a tough saltwater line — one that I've had no problems with, and that absolutely makes the Opal sing.
I've also become a fan of the Serum tip system. Maybe this is my salmon background, where I often swap around a series of different tips, but the Serum tip system allows you a lot of control of your fly and fly line for different scenarios. It features interchangeable 12′ multi-density tips. Most people don't know about the Beulah lines or tips — but I suggest you be in the minority here and become familiar. It's a good product.
Another part of the appeal here is comfort. I find I can cast further for more time than I can with a single handed rod. And I'll admit it: I want to be able to cast for years to come, and think a double-handed rod will make it more likely for that to be possible.
Another part is line control, in every part of the cast. If you're surf-casting, this is definitely true: with a longer rod, you can get up higher and over the tops of more waves with a double-handed rod than you can with a single handed rod. Once you've cleared the wave, with a longer rod you can do more to move the line in the water, controlling where it goes and where the line and fly may or may not get hooked.
One thing I'm still not a convert to is a double handed rod in a boat. I've heard of people doing it, but it seems like too mush rod for an occasion when you could go a bit lighter and smaller to accommodate the situation. But maybe that's just me.
In the end, I'd highly recommend this rod. I've been fishing the 11′ 9/10 wt and find it to be perfect for New England. At about $680, it punches above its weight in terms of performance. If you're looking to get all of your holiday shopping done before Thanksgiving, this would make for a very happy fly fisherman!
Beulah Opal Series Double Handed Rod Specs As Tested:
9/10 Weight
11′
6.5 0z
4 Sections
Fast Action
Dusk Blue
$685
—-