So much about fly fishing is filtered through your eye: sight fishing for rising trout or daisy chaining tarpon, identifying the bait, locating the fish, and, occasionally, setting the hook. Even the aesthetics — the mountain background to a freestone stream, the color of Caribbean water — are a large part of why we go to the places we do to chase fish, with some urban carp being a notable exception.
If the quality of your fishing is so dependent on your eye, why would you limit your vision from the start?
Hint: Don't.
When I go looking for a pair of polarized glasses for fly fishing, I go in with a few questions:
 Will it enable me to see the fish, in the conditions I'll be exposed to, clearly?
Will I be able to wear them for long periods of time without them being uncomfortable?
And — to the extent possible — does the company support fishing oriented conservation?
Let me start with the last one, briefly, as I know it's not a selection criteria many apply to choosing something like sunglasses. But consider this: we discard more than 200 billion plastic bottles every year. While some are recycled, many are trash and end up in our oceans. Where did I learn that? Not by a non-profit, or by Woods Hole or something, but by Costa Sunglasses, a leading fishing sunglasses brand.
Like Patagonia and some other leading outdoor brands, they have come to the conclusion that if we're going to continue to enjoy the outdoors, we must be stewards of the outdoors. That starts by looking after our waste, something retailers long neglected.
I believe we're immensely fortunate to live in a world abundant in such natural beauty. And I believe we should look after it so others can enjoy it.
Costa del Mar is a leader in advancing not only this belief, but also in investing in and creating programs to help steward our environment. For that reasons, among others, Costa is my preferred brand for high-quality and guilt-free polarized fishing glasses.
Ok, now onto the other items.
Costa's lenses are sharp looking — both on you, and in the image they deliver to your eye. I find the Costa lenses to be incredibly sharp. I also like their copper tint for freshwater fishing — it's great in changing light conditions, which is how most days unfold if you're spending a day on the river, as well as for every day use. Meanwhile, the blue mirror is my go to in marine environments. Here's Costa's handy guide to choosing lens colors for different fishing applications.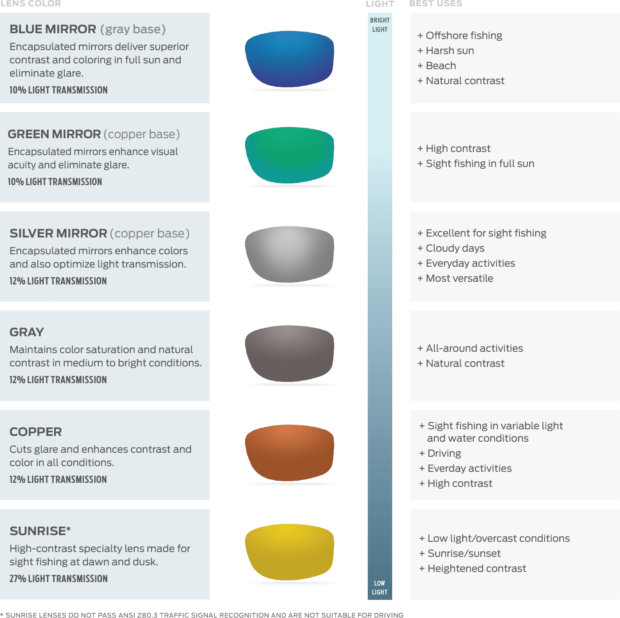 When it comes to sustained comfort, one important consideration is plastic versus glass. Glass has a slightly sharper image, but is heavier. If you're going on a week long fishing trip, and fishing long hours, I find that I start to notice the weight of the glass lenses — something that I don't with plastic. Meanwhile, the image sharpness of plastic lenses is also very strong — so strong, in fact, I'd be curious to see if people would tell the difference in a "blind" test. I doubt the vast majority could.
For me, I almost always go with Costa's 580P lens — it's sharp, its light, its comfortable, and a small part of the price goes to helping clean our oceans. That's a great pair of glasses in my book.