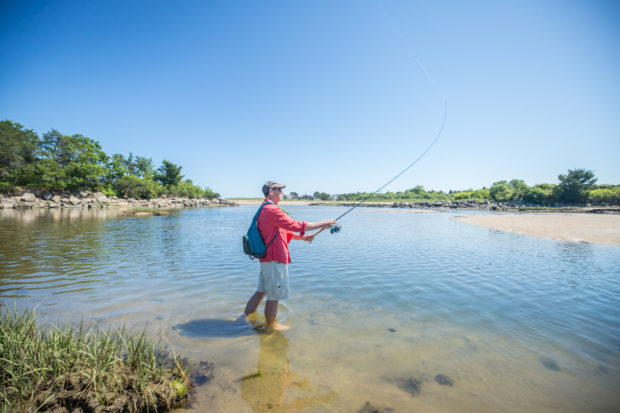 Have you heard of Rail Riders before? No?
My bet: you will be hearing about them in the coming years. And not just because you're reading this.
Rail Riders is a great outdoor clothing company, founded and based right here in New England (they're in Belmont). Their products are rugged and time tested, comfortable, look good, and at a great price point? The only problem is that they're a well-kept secret.
I heard about Rail Riders from a buddy of mine who is fishing crazed. He fishes on Nantucket a lot, and emailed me one day to ask if I had used the brand before. When I responded I hadn't he, incredulous, he got me into some of their clothing — and I've been wearing it all summer.
Here's some of thoughts on this great brand.
Built By People Who Move
Sometimes, you put on a piece of clothing, or try a product, and you know immediately: this was made by someone who doesn't know their audience or the activity well. It doesn't fit, or has features in the way, or something that stands out and says: these guys don't get it. Not so with Rail Riders. The brand has been around for a decade, and the clothing has evolved over time by people who move — their active and adventuresome.
John, the founder, is an active New Englander. He grew up here, went to school here, and has grown up fishing around here. His clothing reflects someone who has spent time outside, not someone bound to a desk designing stuff for activities they themselves don't pursue.
Tough & Wearable
The clothing is tough. I tried a few things to test it — including some accidents. I got the pocket of my Cool Khakis caught on a branch once, trucking through the woods on my way to the river. It stopped me dead. Some pants would have torn immediately, these did not; they held tough. I also took one of the shirts and tried to rip it, grabbing it in my hands and tugging hard on either side along a seam. I did this a few times, in a few different places. (Sorry, John!) I'm glad to report I still have a shirt after this. No tears!
Some clothing I've worn is tough — and looks it. It screams barnyard, construction job site, or Everest. Not that's there's anything wrong with that, mind you (I do a bunch of work with A Concord Carpenter, for one), but my wife remarked, upon seeing me try on the clothing, about how much she liked it.
Let's just pause on that for a second. My wife complimented my fishing clothing. My. Fishing. Clothing. Part of my feels like I could stop the review right there.
I'm far from being known for my fashion sense, but I have to say that I agree with her. The Cool Khakis in slate are somehow both oudoorsy and fit for the pub afterwards. The Therma-Wool top is one that you could wear to the office, even, after you roll off, say, the boat in the morning after chasing stripers before dawn in Boston harbor.  (Not that I've done that…too many times!)
I don't want to play this up too much: it's definitely outdoor clothing, but more so than many brands its tough yet highly adaptable. I don't like spending a ton of my income on clothing, so this appeals to me. I can buy less, and wear it more, more often and more places.
Details
The saying is the value is in the details, right? Well, Rail Riders delivers on the details.
There's phone-sized zippered pockets where you don't expect them on pants, but where you want them. There's ventilation in similar places: under the arms and sides, for instance, that's well hidden enough that it doesn't make you look like you're attempting to pose as a triathlete. There's buttons that are clearly nicely made, not cheap-o and soon to break.
It's the things you want, and Rail Riders does as a matter of course. The details, the small things — they are convincing.
Price
This clothing isn't going to break the bank. It's not Filson (which I love, but which one buys every few decades, and then to replace what was handed down to you) or, to borrow from other industries, Arc'tyrex or Rapha. It's an affordable New England brand.
Don't believe me? Check out Rail Rider's website. I'm not kidding.
Final Thoughts
My first thought, upon wearing them for a day, is my conclusion here: Why isn't this clothing company better known by fly fisherman? It's too good to be kept a secret.
Check it out. Try it out. And let me know how much you like it — cause, like my fishing crazed Nantucket friend told me, you're gonna love it, buddy.