Check out the latest Gear & Beer in which we discuss the Orvis pliers and nippers, as well as Rising Tide's Maine Island Trail Ale!
Orvis Pliers

Sometimes, a new product just feels right in your hand. There's no jargon needed to describe it, no marketing buzzwords. That's how I felt when I unboxed the new Orvis pliers and held them for the first time. They just felt indescribably, subtly somehow better.
The first thing that you notice out of the box is that they are a bit bigger, and slightly curved. I've used a number of pliers that are small in the hand — either because the manufacturer is trying to save money, or that's simply, somehow, the design. As a 5′ 8″ guy with a desk job, my hands are not enormous (insert joke here), simply average. These Orvis pliers fit them perfectly. Where some others were so small and spindly that they slipped around in my hands when they're wet, these don't — they stayed put when I need them to. There's a few indentations for fingers that make sure you get a good grip every time, too.
The curve to the handle is a really nice, subtle touch. Whether the benefit of the added leverage you get when pulling a fly out of a fish's mouth, or simply the way they fit your hand, the curve is a big step forward. The leverage is a noticeable; I've pulled a bunch of flies out of stripers mouths this summer without any of the back and forth faffing about that's sometimes required.
I've seen these advertised as saltwater pliers. While they're definitely perfect for that, I've always taken them on some freshwater trips where I always wear a set of pliers on my wading belt. They've been great in that context.
Made in the same machine shop at the Mirage reels, these are a Made in the USA product. The build quality is high. And the leather holster is hand made in Missouri by Gokey, the same leather maker who makes Orvis's other products.
My only suggestion would be to add a bottle opener to the handle. You know, for those water bottles at the end of a hot day.
Find the on the Orvis website here for $249 — a good price point in comparison to some other brands which come in higher. As my dad says, these are now his go-to pliers. I have to say I agree.
Orvis Nippers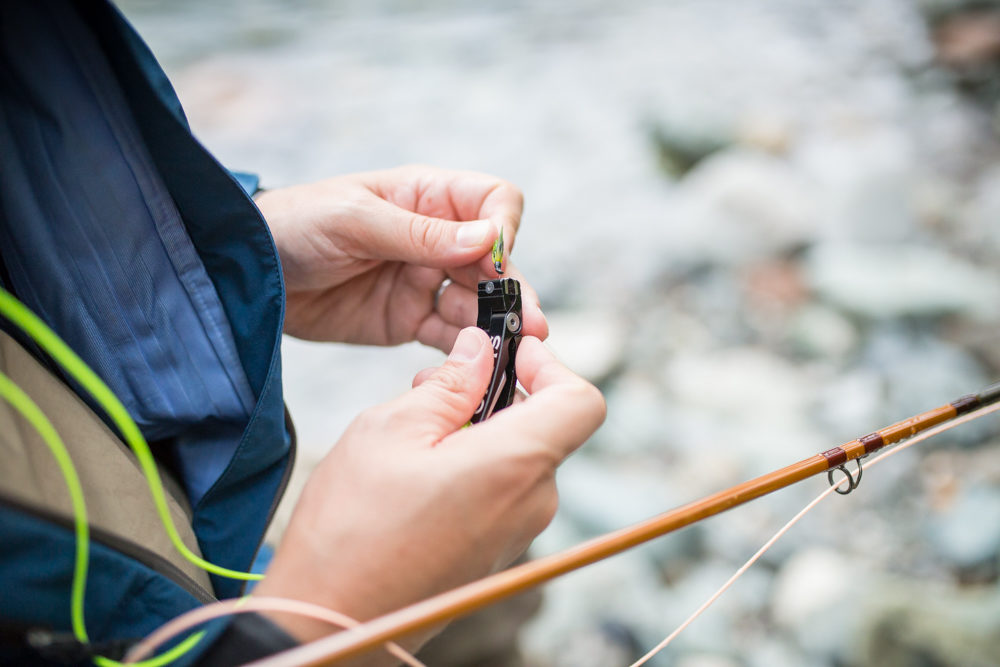 What's in a nipper? It seems like place where you could easily save some dough while not compromising on quality at all. I've done that many times, only to find myself on a river with a rusted, dull set of blades trying to cut some thin X size and shaking my head.
These new Orvis nippers have what they're calling a "Piano-style hinge" that curves up. The idea here is that you have the mechanical advantage of some leverage. They claim you can cut "anything from 80 lb to 8X tippet." While I've not tried 80 lbs, I have tried braid and 6x, and found it worked great with both.
There's a nice spring to these, and they feel good in the hand — not too slippery or anything. I really like how the stainless steel hook-eye cleaner hides out of the way, so the sharp point is hidden — I've definitely caught line on those before on other models by other companies.
The lanyard, which is made of fly line, is a bit too high-visibility green for me. I'm not bike commuting, after all — I'm trying to hide on a river. So I've replaced that with some neutral color cord on mine.
Find them on the Orvis website here for $79.
Made in the USA
One of the things I do really like about both of these products is that they are both made in the same shop that the Mirage reels are made in, which means they're made right here in the USA. I believe in trying to buy American made whenever possible, and find these Orvis products to be well made and easy to recommend.