In a world of rapid change, sometimes it's reassuring to find a reliable constant. And in a world of marketing hype, sometimes it's reassuring to find something that doesn't overpromise, but simply delivers. These were my thoughts this summer as I tried out the Thomas & Thomas DNA Spey 13′ 7# on two Atlantic salmon trips to Canada's Gaspe peninsula.
Now, some of you might be thinking: a 7 weight? For Atlantic salmon? On the Gaspé, where fish are caught over 30 and 40 lbs?
You bet — and with reliable success.
Without getting into too much a wonky conversation about line weights versus grain weights and how they match up to double handed rods, let me say that a graphite double handed rod of this length is not the same as a shorter, single hand 7 weight. It requires more to flex, and therefore requires either a slightly heavier line or a line with a forward weight distribution that would make grandma blush.
What's grandma have to do with this? Everything.
After a few days with this rod, and after comparing it to an older and strikingly similar T&T Spey model, I came to believe that this rod would very much be the Spey rod your grandfather would love to own. It's smooth and sharp, adorned without being fussy, beautiful even. It's a class act, a rod with a distinguished lineage and yet also a rod of today.
At the risk of taking this analogue too far, let me say this rod is also tough — again, just like my grandfather. When the rod rack fell off the roof of the car at full highway speed, the T&T rod came away in remarkably good shape. Once I had run back to pick up the rods, and waved off the truck that was barreling around the corner, I found the rod to be intact — a bit scratched, but only a bit. It was not in pieces, as I thought it surely would be, but still in casting shape. Impressive, I thought, for any rod, let alone for one that one might mistakenly think should come out only with your Sunday best.
A Rod of Tradition: Slow(er) and Steady
Thomas and Thomas began as a bamboo fly rod company. While it's true that they have long since switched to producing both graphite and bamboo, their roots very much inform the work of today. This is true from the logo — which I love, including some of the variations with the knurling — right down to the action of the DNA Spey.
On the spectrum of today's fast action rods, the DNA Spey action is slower. It's not slow, a term that I don't particularly like. Unlike casting a bamboo spey rod, which can take so long to load they seem to merely slow but reverse time, this DNA Spey rod affords more feel than some of the faster action Spey rods; you're not casting from your finger tips, but feeling it in your palms. Now, some of you who follow my site know that I like that; my dad built bamboo rods, and so I grew up casting by feel. Some Spey rods I've cast flex upon casting right down into the fighting butt; this rod doesn't flex quite that much. Enough so you know its roots, but enough to be more adaptable.
A similar comparison exists when fighting fish with a double handed rods. A lot of the "faster" modern rods compromise on feel. When you hook an Atlantic salmon of moderate size (10 – <20lbs say) you can't sense it's movements as well. This disconnects you from the fight — the very thing after which the fish is named, and a large part of why you travel such lengths to chase them. I don't like that loss of feeling at all.
As a rod in the slow/middle part of the spectrum, the T&T makes a modest fight/feel sacrifice on behalf of casting performance; it's not fiberglass, nor is it a super fast contemporary rod. I found this out when, on the last afternoon of the last day of our trip, after some very slow days, I hooked a large salmon on a size #12 fly on alarmingly thin tippet. The fish leapt and tumbled and ran, and I felt a good portion of it — enough to establish a connection with the fish, and to make the heart race.
A Steady Evolution
For my second trip of the summer, I happened to have an older T&T Spey rod with me. In taking them both out, I was amazed at how this rod has evolved with such consistency over time.
If you look at the pictures below, you can see how the rod has been tweaked slightly, but how the aesthetic and basic design have remained constant over time. Let me be clear: this is not a criticism. Far from it, in fact. In a world where things are evolving so rapidly, and in an industry where so many things seem to be sold by marketing hype, it is reassuring to find a company that promises to sell you not the latest jargon, but oldest product in the book: a quality product, with American craftsmanship.
The premium cork handle is a slow taper with no wells. The length of the grip for the upper hand is generous, allowing you to adopt a variety of casting positions, depending on your style and comfort.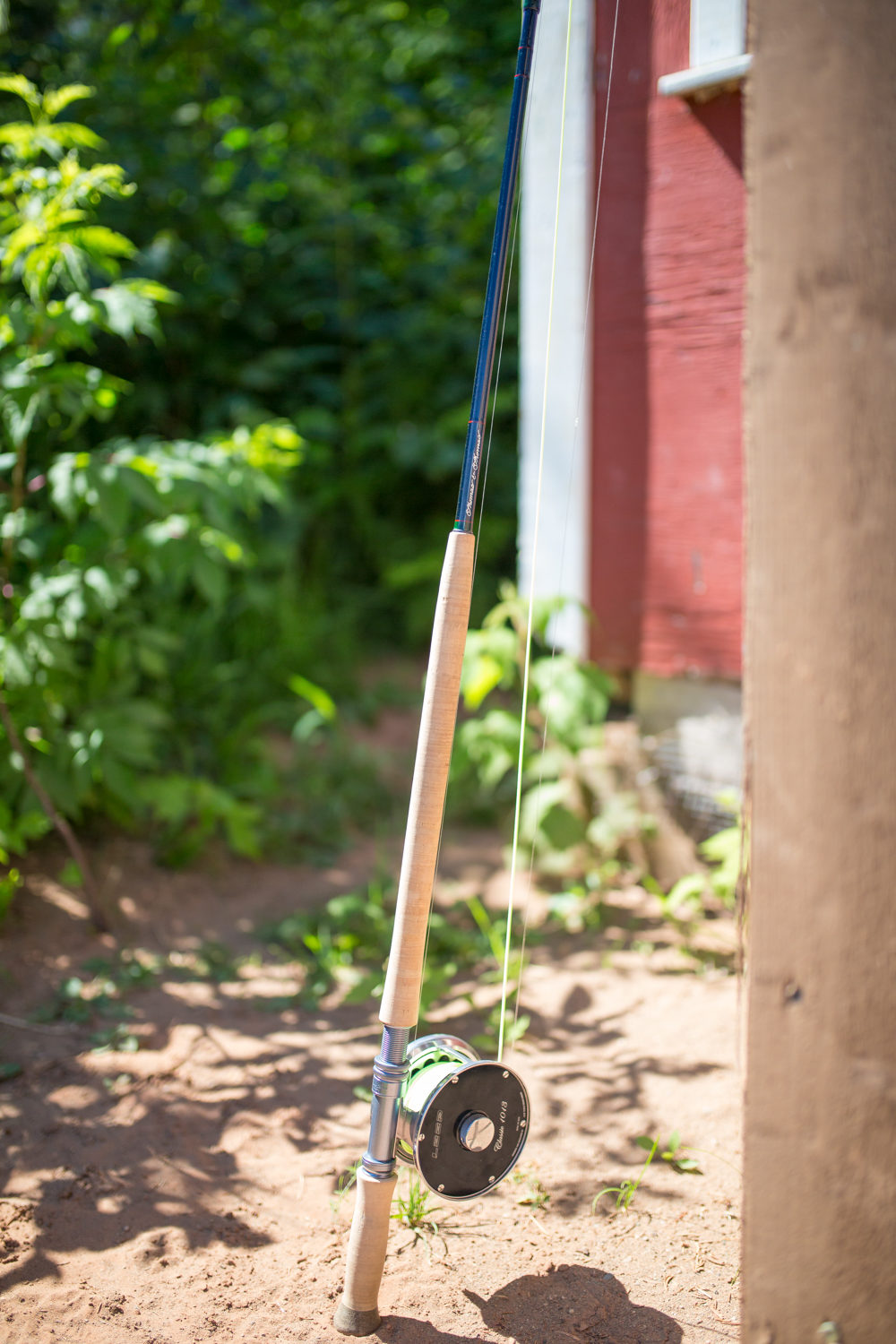 The color combination remains constant (blue and green are my two favorite colors) and understated.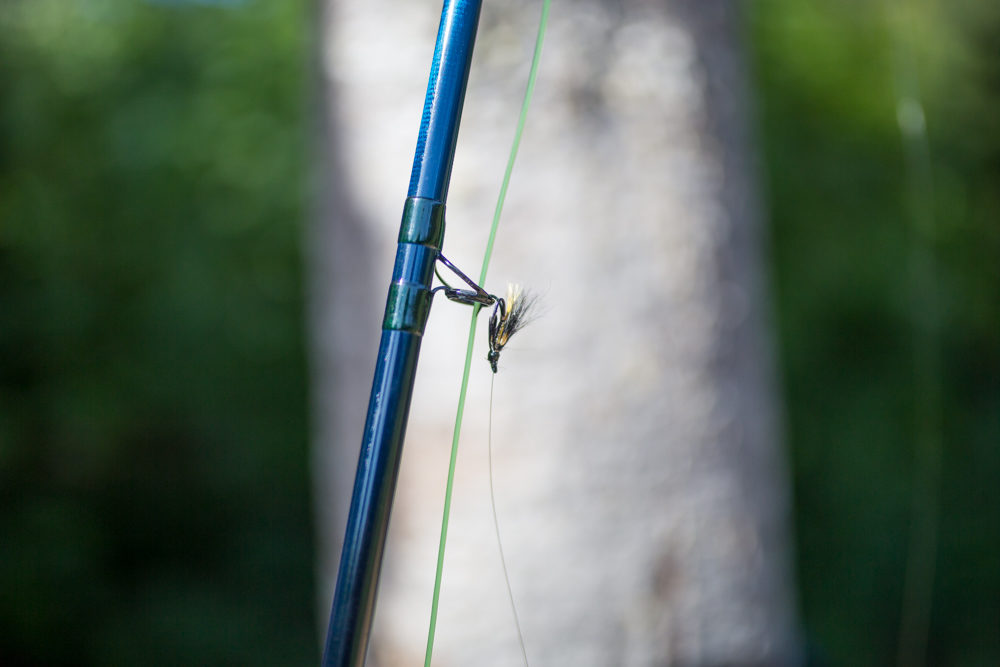 Conclusion: Sunday's Best For the Other 6 Days a Week
A friend of mine has a saying: Life's too short to fish crappy rods. I have to agree with him. This beauty of a T&T doesn't have to be a rod you fish one day a week. It's classic, it's tough, it casts and fights nicely. It's an investment in a product you can proud of and use for years to come.
It's also an investment in a product with American craftsmanship, and in a team that truly cares about investing back into the fishing community. Neville, the new (new only in comparison to the storied history of the this company) is a great guy who truly cares about the company, its people and its heritage. They're doing any number of ambitious things, and are tremendously generous with local events and charities.
In the end, the Thomas & Thomas DNY Spey rod is a truly great choice. You'll love it — and your grandchildren will thank you.
The DNA Spey series continues the evolution of T&T's highly regarded stable of two-handed rods. These are for the angler seeking rods that can do it all — Skagit, Scandi, Spey, and overhead — with ease. The DNA Classic is the perfect 'all rounder' and the best choice for experienced casters fishing mid belly length lines and longer. Models with an XF designation are designed primarily for fishing with Scandi style lines or shooting heads, and have a crisp, sharp feel perfect for throwing tight loops with touch-and-go casts. Our XD rods have a deeper flexing profile designed for anglers who utilize 'sustained anchor' casting techniques with Skagit heads and large, heavy flies. With each model individually designed to serve a distinct purpose, the DNA Spey series has the right rod to meet the demands of any two-handed fishing situation.
Features:
Multi-modulus graphite blank with classic T&T blue low-friction finish
Spey grip
Pewter gray milled aluminum down-locking reel seat
Fuji stripping guides and Universal Snake Brand guides with green wraps with red edging
Retail: $995